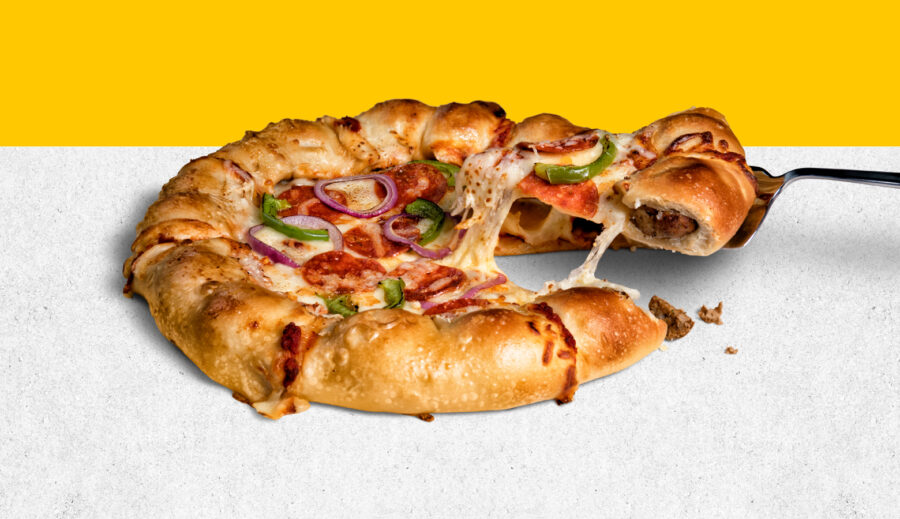 MEATBALL STUFFED-CRUST DEEP DISH PIZZA
The only thing better than deep dish pizza is meatball stuffed-crust deep dish pizza. Feel free to mix things up with toppings and sauces. Go classic or go wild. Plus, if you prefer a firmer crust, you can pre-bake the crust to make it a little crispier (Just don't tell your Chicago friends).
Ingredients
16 Casa Meatballs, prepared according to package instructions
1 Tbsp oil, for cooking
One bake-ready pizza dough (usually in the grocery store deli) or thawed prepared frozen pizza dough
1.5 cup marinara sauce (your fave prepared or homemade if you've got it!)
1.5 cup shredded mozzarella cheese
Pizza toppings of your choice (pepperoni, sliced black olives, thinly sliced onions, or green peppers, etc.)
2 Tbsp melted butter, for brushing the crust
½ cup shredded parmesan
Directions
Bake Casa Meatballs per package instructions. Once done, set aside to cool.
Keep oven temp at 425°F.
Line a baking sheet with parchment paper.
On the sheet of parchment paper, press or roll the pizza dough into a large circle, about 12 inches in diameter.
Cut 8 evenly spaced 1-inch slits on the edge of the dough.
Place two meatballs on the edge of the dough between 2 slits. Top meatballs lightly with 1 tsp marinara and approximately 1 tsp of shredded mozzarella.
Pull the corners of the dough around the meatball and press into the dough, sealing the meatballs in a dough pocket. Repeat with the remaining meatballs, and create a deep dish "shelf" as you go along. (If you want to pre-bake your crust for a few minutes, now's the time to do it!)
Spoon half of the remaining marinara sauce into the middle of the pizza and spread evenly.
Sprinkle half of the remaining mozzarella and parmesan over the sauce, then add half of your selected pizza toppings!
Create a second layer of marinara, cheese, and toppings. 11. Brush the dough around the meatballs with butter. Sprinkle parmesan on crust.
Bake according to pizza dough instructions, but given the depth, know that it might take a little longer to bake. Usually around 25 minutes, or until the cheese is bubbly and the dough is golden and just cooked through.
Slice with a pizza cutter and serve. Makes 8 slices.
Summary
Recipe Name
MEATBALL STUFFED-CRUST DEEP DISH PIZZA
Author Name
Published On
Preparation Time
Cook Time
Total Time